Club Med, Cherating Beach
A cool breeze was the only thing that was missing. I was lying down, propped up on my elbows with notebook and pen in hand, admiring the gorgeous blue sky and the shimmering South China Sea in front of me. The beachside pavilion I was in could have done with a few cushions to lie on but it was good enough. Not too far away, a song played faintly.
Then as if on cue, the wind picked up and a soothing breeze blew over me. I looked up to see the fronds on the palm trees swaying gently.
For someone who isn't exactly a beach person, Club Med at Cherating Beach was slowly becoming a place I could get used to.
And that was before I saw this video:
When the resort at Cherating Beach, Malaysia opened in 1979, it became Asia's first Club Med. I'd heard about the resort for years but it was only recently that I had the chance to spend a few nights there as part of the resort's Ambassador Search campaign.
The beauty of a Club Med resort is that once you've booked your holiday, you have nothing else to worry about. Club Med is an all-inclusive resort in that the price you pay includes accommodation, activities and all meals throughout your stay, no matter how much you eat. I don't know about you but I think that makes things a whole lot easier.
The Club Med Village at Cherating Beach has truly gorgeous surroundings. Part of it is rainforest and part of it fronts the South China Sea, providing guests with various options when it comes to activities. I don't find sunbathing or lazing by the beach terribly exciting so I was overjoyed to discover that there was a jungle within the resort. Time for a jungle walk- in fact, I went twice!
I was impressed by how forward-thinking Club Med had been to open its first Asian resort here in the 1970s because this part of Malaysia wouldn't have been as developed as it is now.
On my way to Cherating Beach, I saw trees and hills along the road being cleared for development. I thought nothing of it. It was only on my second day that I realised that the beach and the jungle at the resort had been preserved and looked after for the past 36 years. Let's hope that the jungle at Club Med Cherating Beach will always be protected.
One of the highlights of Club Med is the food. At Cherating Beach, meals are served at the Mutiara Restaurant, where daily buffets offering a mix of Western and Asian food are served. There is no such thing as dieting at Club Med- the buffet spreads are truly amazing.
Every Club Med village has its own distinct identity and the one at Cherating Beach is no different. Last renovated in 2014, the resort's 297 rooms are built in a traditional Malay style and housed in teak bungalows on stilts. Depending on where these bungalows are located, your room will face either the sea or the lush garden that makes up most of the resort.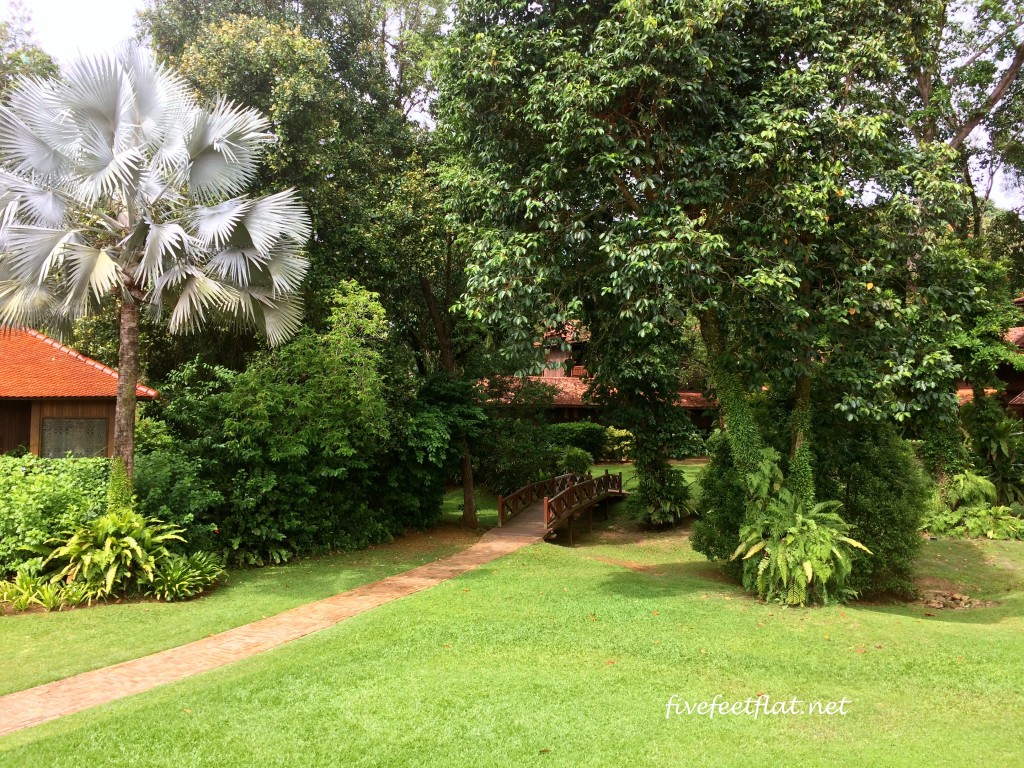 Club Med Cherating Beach is primarily a family resort. There were many couples on holiday but from what I saw, groups of friends and families would have a better stay here compared to honeymooners and couples looking for some quiet time.
Activities are a big thing at Club Med resorts. At Cherating Beach, loads of activities are included in your stay package, like sailing, kayaking, rock climbing, archery and a few swings on the flying trapeze, among others. Treatments at the resort's Mandara Spa come with extra charges, but they're completely worth it.
For bookings and the latest happenings at Club Med Cherating Beach, go here. You won't be disappointed.
*My stay at Cherating Beach was sponsored by Club Med Malaysia. As always, all opinions are mine.
© 2015, Anis. All rights reserved.