Motorcycle diary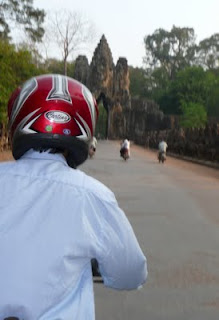 I heard the motorbike rattling behind me before I actually saw it. The sound got louder and louder, which meant that I was being followed.
The noisy bike caught up with me and appeared by my side.
"Hello," said the man riding the bike. The skin on his face was dry like worn leather, and wrinkles formed around his eyes when he smiled but I knew he wasn't old. "Where are you going today?"
Just walking, I told him.
"You want to go to the landmine museum?"
"You know where it is?" I asked.
"Yes, I know, of course. I bring you there, on my bike," he said.
I'd been thinking about going to the Cambodian Landmine Museum before I even left home.  And today, on my last day in Siem Reap, someone turns up on a motorbike and offers to take me there?  This was something I couldn't ignore.
But first things first, I thought. "Can you wait? I want to have my breakfast before I go, over there," I said, pointing to the Famous Angkor Cafe.
"Of course. I wait for you."
I watched him as I sipped my coffee.  He was waiting a few doors away, checking his teeth every so often. I watched him grin, smirk and growl as he made faces at the little round mirror on his bike. My instincts told me he was harmless.
That was how it started, my motorbike ride with a stranger in Cambodia. He was 29 and his name was Ta. He seemed genuinely eager to bring me to the museum. "It's not far, I know a quick road there," he said, and off we went on his motorbike.
This particular landmine museum intrigued me because it was set up by a former Khmer Rouge soldier. Aki Ra, now in his 40s, used to install landmines for Pol Pot.  Now, Aki Ra is a different man. Deeply regretful of his past misdeeds, or so says the literature on the museum, he now educates the public and helps to defuse the very same landmines he planted, which still lie in scores in the Cambodian countryside.
We'd been riding the bike for about an hour already. This was March, the height of the dry season. The sun burnt my face and the back of my neck until it hurt.
"You always do this? Take people on your motorbike?" I shouted, clutching Ta's shirt. Someone could have asked the same question of me: "You always do this? Accept rides from strangers?" We were on a two-lane road with huts on both sides. I couldn't see how fast we were going, but the bike's rattling had gotten louder.
"Sometimes. I need to make money. To marry my girlfriend," he turned briefly, flashing me a quick smile, instantly looking younger.
"That's nice. When?"
"Maybe next year."
We passed village after village, all identical, with identical children running around and identical old ladies walking by the roadside, carrying mysterious bundles on their heads.
Buffaloes stood in rice fields by the side of the road, their thick fat tails swapping away flies. I caught the smell of dung drying in the heat.
"How long more?" I yelled. His bike was really noisy now.
"Not long, you wait," Ta shouted back.
 Finally, we stopped at a white building. Ta got down and spoke to a man near the entrance. All I understood was,"Aki  Ra, Aki Ra." Would I ever get to meet the man himself?
Ta came back with a frustrated look, the lines showing on his sunburnt face.  "I'm sorry. This is the museum, but it's not really open today," he said.
"What do you mean?" I asked. "The gate is open, right?"
Ta sighed. "No, it's open but not ready."
I didn't understand what he meant, so I walked into the building.  There were exhibits all right- warheads, old landmines and posters with gruesome photographs- but not all of them were up. The museum was still under construction and exactly as Ta had said- not ready.
Neither was Aki Ra there, so my hopes of meeting a former Khmer Rouge officer never materialised.
"Not open yet. I'm very sorry, you cannot see what you want to see," Ta said, shrugging apologetically when I went back outside.
"No, that's okay," I said. "It was a nice ride. Don't worry, I will still pay you."
My eyes searched the road beyond the museum grounds. Nothing, really. Just a few huts nearby, with children playing. I heard a dog barking and a baby crying somewhere.
Then I recalled seeing a small tea shop in one of the villages we had passed. I remembered seeing three tables, or was it four, with bottles of fizzy drink on them.
Ta was sitting on his bike, wiping his neck with a handkerchief and looking tired. He looked like he could use a cold drink.
"Would you like some iced coffee?" I asked. His face lit up.
"Of course. I bring you there," he smiled, and off we went.
*I finally visited the museum on my second visit to Siem Reap. See here.
© 2012 – 2014, Anis. All rights reserved.