Khlong Hae Floating Market, Hatyai
Khlong Hae floating market isn't far from Hatyai town in south Thailand. I'd been wanting to visit Thailand's famous floating markets for a long time but never got down to it, so I was happy to get the chance to do so in Hatyai.
Southern Thailand is a predominantly Muslim area so the market has a distinctive flavour to it. Most of the vendors are women – just like in markets in the Malaysian state of Kelantan, which borders Thailand.
Opened in August 2008, this particular floating market is southern Thailand's first. The boats, most of them just sampans, are moored along Khlong Hae, or the Hae Canal.
Vendors cook from their boats and sell fried rice and nasi kerabu (rice with fresh herbs)  and finger food like fish cakes, sliced mango with glutinous rice and quail eggs.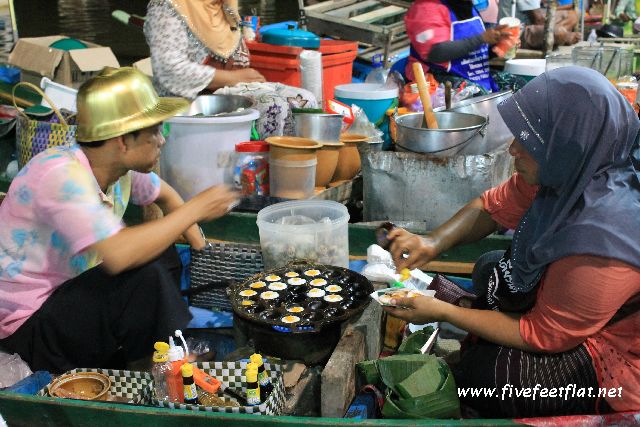 It's not a very large market but I enjoyed the walk along the canal, trying a bit of everything. Vendors don't get up from their boats but instead pass the food over in long-handled baskets to anyone who is buying. Customers will then place their money in those baskets.
We visited on a Saturday night so the market was overflowing with people. There seemed to be a sort of children's celebration going on and there were lots of families and teenagers around.
Apart from the boats in the floating market, there were about 30 stalls selling food, toys and t-shirts in the area surrounding the canal.
Getting there
Get a tuk-tuk from Hatyai town to Klong Hae. The market is open from Fridays to Sundays, 3-9pm. Remember to bring small change- the vendors will appreciate that. I visited the floating market at night but click here for some really nice day shots.
*My visit to Thailand was made possible by Tourism Selangor as part of their January 2013 TS Day Out event; all opinions, however, are mine entirely. Connect and find out more about TS Day Out via the Tourism Selangor Facebook page.
© 2013 – 2014, Anis. All rights reserved.