A day on the Cape Peninsula
In front of me was a long sliver of land, a crooked finger that pointed to the South Pole. It was a clear day and I could see a footpath leading right to the edge of the fingertip. I couldn't see it from where I was, but I knew there was a lighthouse somewhere on that rock.
I pictured a map of the world in my head and marked an x where my feet touched the ground. I was at Cape Point, one of the southernmost points in Africa. Not too far away was the Cape of Good Hope. The nearest land mass from where I stood was Antarctica, a mere 3,900 miles away. I had never been this far south on the planet.
***
The first European to reach these parts was Portuguese explorer Bartolomeu Dias, who arrived here in 1448 while searching for a sea route to India. He called it Cabo das Tormentas ("Cape of Storms") on account of the rough seas and strong wind, but the name was later changed to the Cape of Good Hope to reflect the optimism surrounding the discovery.
Cape Point lies at the tip of the Cape Peninsula, a rocky piece of land at the southwestern extremity of Africa. Getting to Cape Point isn't difficult. The easiest way would be to go on a tour, but if you've got a car or bike, you can reach Cape Point by yourself quite easily. I didn't get to rent a car, so I took the easy way out and went with Cape Capers.
The Peninsula is close enough for a day trip from Cape Town and is dotted with small towns and suburbs that are worth stopping at. The first of these towns is Muizenberg, which is reachable by train from the city. The railway track runs right by the coast, and looking at it made me feel like staying an extra day just so I could do the ride.
The next suburb we passed through was St James, a popular seaside retreat along False Bay. It won't take long for you to realise that you've reached St James- after you leave Muizenberg, look out for a tidal pool and some colourful beach huts on your left. You won't miss them.
At the end of the coastal railway line is Simon's Town, which is also Africa's most southerly train station. We didn't see any whales when we were there but Simon's Town is a great place to enjoy wildlife. Whales return every winter, and penguins and otters are a regular sight on the beach.
Boulders Beach is another stop you'll be making on the way to Cape Point. Here, you'll be able to see a large colony of African Penguins in their natural habitat. Previously, visitors were allowed on the beach but when it was discovered that the penguins were getting distressed and laying eggs less frequently and in smaller quantities, boardwalks were built for people to walk on. Separating the human beings from the penguins in this manner proved to be a good idea- soon the penguins were laying eggs like they used to.
From Boulders Beach, Cape Point is forty minutes away. This is when visitors should be extra careful when getting out of their car or winding down their windows. In fact, don't wind down your windows, or get out of your car without locking your doors- this part of Table Mountain National Park is known for its wild baboons. They can smell food even if you've kept it in your backpack or car and can get vicious if they haven't eaten in a while.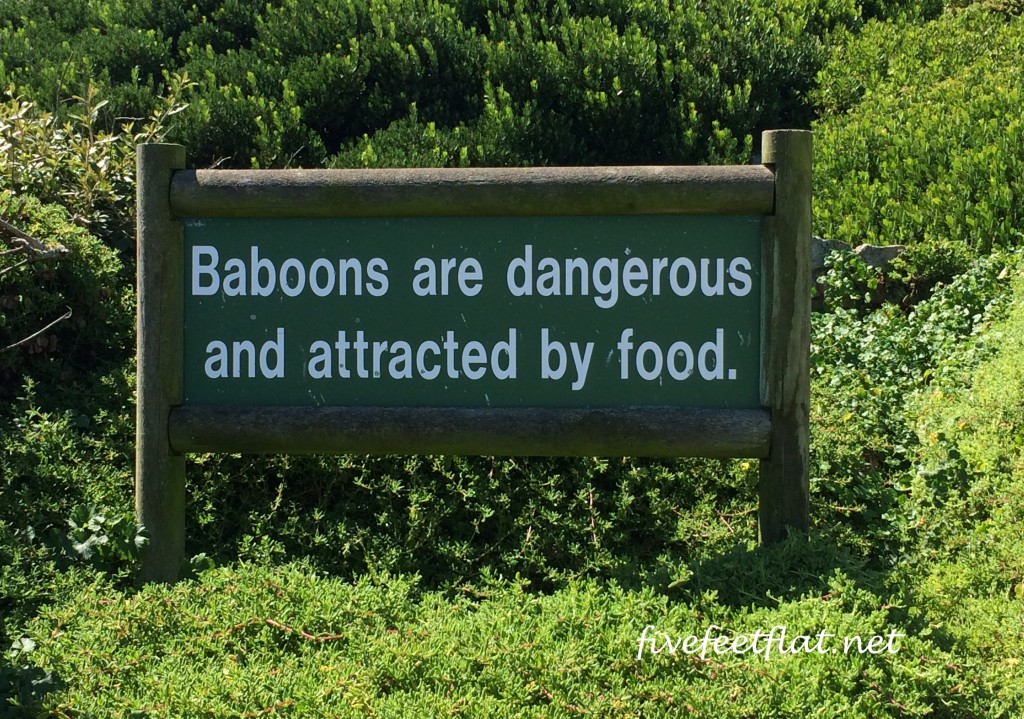 Despite the name change from the ominous 'Cape of Storms', the area remained a dangerous place for ships, and in 1859 a lighthouse was built on the highest point of the Cape. Unfortunately, the lighthouse was often covered in fog and mist and did little to warn approaching ships. The lighthouse was also quite a distance away from the actual coastline, which meant that ships weren't always able to gauge how far they were from land and as a result, often crashed upon the rocks.
Go up to the lighthouse for views of Cape Point and the promontory that juts out towards the South Pole. It's not a difficult walk but if you don't feel like climbing up the hill, you can take the funicular railway to the top. However you choose to go up, the view will be impressive.
In 1914, a new lighthouse was built, this time at a much lower elevation and closer to the coastline. You can hike to the new lighthouse but I would suggest you set aside at least half an hour to get there and back. After you're done marvelling at the view from the old lighthouse (and doing so will take more than just a few minutes), you'll need time to walk down the hill and then to the new lighthouse.
A visit to the Cape Peninsula wouldn't be complete without a drive (or hike) to the Cape of Good Hope, the headland that Bartolomeu Dias discovered. While the view at Cape Point was dramatic and filled my head with words as I attempted to describe what I saw, the Cape of Good Hope had a calming effect on me. As I stood on the cape and looked south, I felt as though I was truly standing at the edge of the world.
The drive along the Cape Peninsula was one of the highlights of my trip to Cape Town. In just a few hours' drive from the city, you'll get to see the beautiful South African coastline and stand at what is almost the tip of Africa.
*A big thank you to Cape Capers, who took me to the Cape Peninsula. These opinions, however, are entirely mine.  
© 2014 – 2015, Anis. All rights reserved.