Seven ways to enjoy Central Taiwan
*The following post was written for the Taiwan Tourism Bureau. Some readers aren't too fond of sponsored trips- if you're one of them, go here to read a personal account of my recent (self-paid) walk in Spain.
Many travellers to Taiwan are drawn to its capital Taipei and her bright lights but if you prefer the countryside, head for the central part of the island. The region is accessible from Taipei's Taoyuan International Airport by a high speed train, and is worth a visit if you'd like a quiet and relaxed travel experience.
The majority of Taiwan's population is Han Chinese, but that wasn't always the case.  Taiwan has its own group of indigenous peoples who are believed to have lived on the island for 8,000 years before the mainland Chinese first arrived on its shores in the 17th century. A more recent mass migration took place in 1945 when civil war broke out between Chinese communists and Nationalist Party supporters – more on this below.
Here are my suggestions on how to enjoy central Taiwan.
The HoFung Bicycle Greenway
Taiwan's railway lines-turned-bicycle tracks are one of the best things about the island. Taichung city has six cycle paths, three of which are built on disused railway lines. One of these is the Hofung Bicycle Greenway, which was created after the old Mountain Railway Line ceased operating. The Hofung route takes cyclists (and walkers, if you prefer getting around on your feet) into the countryside, through an old Japanese-era tunnel, and over an iron bridge across the Dajia River, all the while linking cyclists with villages along the way. Riding a bike on Taichung's cycle paths is a wonderful way to explore the city and its surrounding area.
Getting there: You'll need to take two buses to get to the start of the HoFung route. From Taichung Railway Station, take the Fengyuan bus to Fengyuan Station. After that, take bus 212, 213 or 215 to the Houli Horse Ranch where you can rent your bike and get on the HoFung Bicycle Greenway. A guide to Taichung's cycle routes can be found here. 
Roll In Farm
Here's the thing about Roll In Farm: it's in an isolated location and the rooms don't have televisions or mini bars, neither do they have towels so you'll have to bring your own, but all that becomes secondary when you arrive and discover the green philosophy behind it. The farm – this term is used loosely in Taiwan, as it also refers to eco-friendly hotels- is built in the most gorgeous surroundings at an elevation of 1,100m above sea level. Sometimes when the weather is right, mist appears on the hills just below the hotel, so you get an idea of what it feels like to live above the clouds. Clearly one of the more beautiful places I've stayed at.
For more details and to book a pick-up service from Taichung or Taoyuan Airport to Roll In Farm, click here.
Sun Moon Lake
Sun Moon Lake is the largest body of water in Taiwan and a popular tourist spot. The name refers to its shape: the eastern part of the lake is said to be round like the sun, while the western section is elongated and narrow like a crescent moon.
The lake's surroundings are truly scenic but busy on weekends, so you might want to visit on weekdays if you want to avoid the crowds. There is a wooden walkway around the lake where you can explore the area on foot or by bike. Visitors can also take a boat cruise or get on a cable car for an aerial view of Sun Moon Lake, which is highly recommended.
Getting there: Take the direct tourist shuttle to Sun Moon Lake (the stop is outside Taichung Railway Station)- a one-way fare is NT$190 for adults, but do make sure that prices are up-to-date. Go here for details. The tourist shuttle also goes to the Formosan Aboriginal Cultural Village (below).
The Formosan Aboriginal Cultural Village
The Formosan Aboriginal Cultural Village is a cluster of reconstructed villages featuring 14 of Taiwan's main indigenous tribes, in itself located within a theme park reachable via cable car from Sun Moon Lake. Within each individual village are reconstructions of features like burial sheds, family homes,  grain huts and community areas.
The village is an interesting look at Taiwan's indigenous folk, who are classified as Austronesian peoples and have genetic and linguistic ties to groups in Malaysia, Indonesia, Madagascar and Oceania. Look out for the indigenous museum with items like traditional costumes, household items and cooking utensils. The larger theme park also has a European-style garden and a rather out-of-place amusement park with spaceship rides, but feel free to ignore them if you're short of time and if such attractions aren't your cup of tea.
Getting there: You can get to the Formosan Aboriginal Cultural Village by tourist shuttle (see Sun Moon Lake above), but the scenic route would be via the cable car ('Ropeway'). Go here for ticket prices- note that you'll need separate tickets for the cable car ride and entrance to the aboriginal village.
Wangyou Forest
To the Taiwanese, Wangyou Forest serves as a place of unusual beauty as well as a sad reminder of one of the island's most devastating earthquakes- the 7.3-magnitude quake that hit Nantou County in September 1999.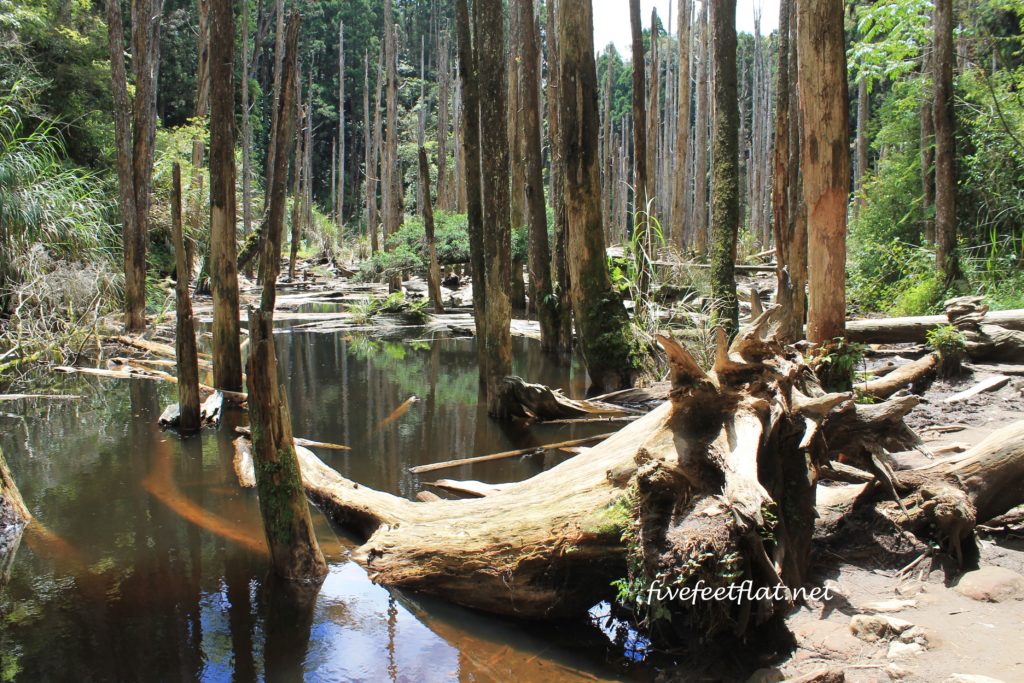 Thousands died as a result of the earthquake, but the disaster also did two things to Wangyou Forest- the massive shift of rock and earth blocked the flow of a nearby river and led to flooding of the forest floor. The result is a somewhat otherworldly-looking swamp with trees that are dead, although they are still upright. Wangyou Forest is popular amongst hikers, and nature and photography enthusiasts.
The Rainbow Military Village
The words 'rainbow', 'military', and 'village' don't seem to go together but thanks to army veteran Huang Yong-Fu, they do. Huang is responsible for saving an entire village from being demolished using only his paintbrush.
The Rainbow Village of Taichung is one of thousands of what were called 'military dependents' villages' set up in the late 1940s. These villages were meant to be temporary homes for Chinese nationalists who had fled to Taiwan from the mainland, many of whom were soldiers with families. Chiang Kai-Shek's plan to retake China from the Communists never happened, however, and the villages ended up being permanent homes for the soldiers.
In the 1990s, the government began announcing plans to tear down the soldiers' settlements for redevelopment. In 2010, Huang's village was among those listed for demolition but before the city authorities could do anything, he picked up his brush and began painting the walls of his house. The wonderful thing is that Huang didn't stop there but moved on to his neighbours' houses, creating what may be the most colourful village in the world:
Huang's village quickly became famous when university students began posting photos of the painted houses on the internet. In the end, the city government decided not to proceed with the demolition.
Today all the village houses, gates and sidewalks are covered with Huang's outlandishly bright cartoons. Huang is now 93, and still paints.
Getting there: To get to the Rainbow Village, take bus 27 or 40 from Taichung Railway Station and get down at Lin Ting University. From there, walk southbound along Lingdong Road- you'll reach the village in five minutes.
Finally, the food
Taiwanese food is influenced by various cuisines from the mainland as well as indigenous and Japanese food. If you're vegetarian or simply prefer to eat less meat, you won't go hungry in Taiwan. The seafood is fresh and the vegetables delicious. Better still if you like mushrooms and tofu as these ingredients are very popular in Taiwanese cooking. I would particularly recommend trying at least one vegetarian hotpot when you're there- the Taiwanese do soups and hotpots extremely well.
Enjoy Taiwan!
*As mentioned above, my one-week trip to Central Taiwan was made possible by the Taiwan Tourism Bureau and PCP Publications. To know more about visiting Taiwan, go here and here. 
© 2016, Anis. All rights reserved.