A short walk in the Alpujarras: Pórtugos to Bérchules
I looked up and saw an empty path in front of me.
The trees that had stood nearby were no longer there- all I could see now were their silhouettes, covered in a thin low cloud. I had been so focused on the trail that I hadn't noticed the mist coming in. "Hey!" I cried out to no-one in particular.
High on a rise about twenty feet away, a blurry shadow moved. Zarah raised her hand and I waved back. It's all good. I'm still alive. The shadow turned away and trudged back up the hill.
How ironic, I thought as I picked up speed. If you're travelling alone, no matter how risky it may be, it's okay to be alone. But when you're travelling with someone and you suddenly find yourself alone- well, that's something else. Time to feel worried.
We were in Spain on the third day of our walk through the Alpujarras. Our route borrowed parts from trails like the 1,700km-long GR7 and the 300km-long GR240, connecting the old Moorish villages to each other and bringing us across rivers, rocky peaks and through forests. It's winter, but southern Spain is milder than the rest of Europe this time of the year, and despite our proximity to the Sierra Nevada range, walking trails such as ours had already opened.
By the time the mist set in, we were approaching the end of Day Three, but the day had begun quite differently that morning. After setting out from Pórtugos, the trail took us through the Trevélez river valley into snow-covered oak forests, up and down hills, and across small streams of the Rio Trevélez.
This appeared to be a quieter section of the route, with fewer people than the day before. Time and again we would see wild birds or catch a glimpse of deer bounding off into the trees, their antlers looking so much like branches that we would only notice the deer until they ran away.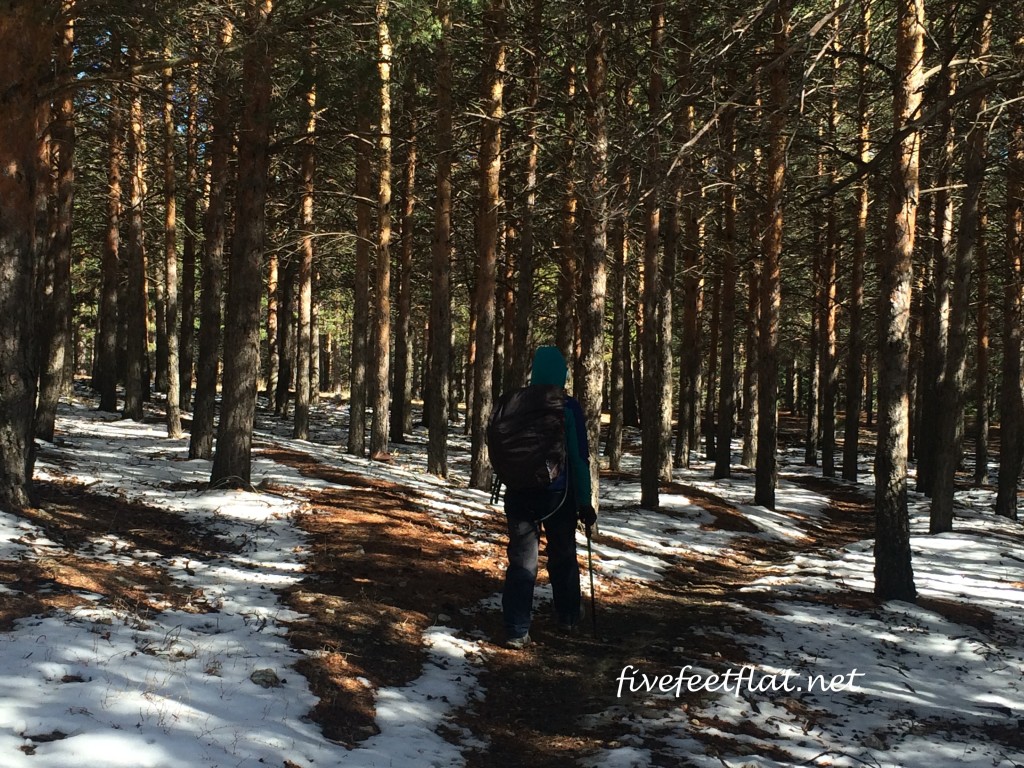 The route gradually brought us to rocky ground. We climbed higher and passed a series of gorges with shrubs and sharp rocks at the bottom. My feet skidded a couple of times in the mud and I lagged behind, struggling to carry a backpack that had doubled in weight since the morning.
The path became narrower and the melted snow made the ground slippery. Our route had turned into a muddy, uneven trail which ran alongside steep ravines, which made me uneasy. Every time I glanced over the edge, I imagined the dark emptiness pulling me closer and swallowing me up.
Here's a confession: I am terrified of falling from high places. I have fractured my arm, torn off my kneecaps and tripped and fallen so many times as a child that standing at the edge of a gorge turns my body cold. And yet I am drawn to mountains and high places of any kind. There is nothing more irresistible than peering over the edge to see how far up I am, but when I look I am both horrified and in awe of the depths below.
The trail led us up a steep hill. I was halfway up when I realised to my horror that the path was completely exposed on both sides. A familiar chill went through my body. The path was only a foot and a half wide and flanked by deep ravines on my left and right. I was surrounded by empty space.
I took a step and my foot squelched into the mud. I took another step and this time my foot slid backwards, almost causing me to topple over.
I stood panic-stricken and rooted to the ground, unable to take another step and terrified of falling. Zarah was way ahead of me and nowhere to be seen. Finally I dropped to my knees and began crawling up the path, grabbing rocks and bits of grass as I went, trying not to look over the edge of the ravine.
When I reached a spot safe enough to stand, I got up and wobbled the rest of the way up the hill. I passed Zarah, who had a concerned look on her face. "Are you all right?" she asked.
We set up camp and had lunch after another three hours of walking through the woods. By this time, the pain in my lower back was unbearable.
We read our route notes over cups of hot mint tea. "You know, it says here that we're so high up, we might be able to see Africa," my friend said as she flicked through the pages.
I read that bit at home. I had begun packing but got distracted by the route guide and ended up reading on the floor, surrounded by my clothes, socks and underwear. Was that really just one week ago? I thought as I sipped my tea. "Yes, that would be amazing."
Two days later we reached El Portichuelo, the highest point on the trail at 2,020m above sea level. The mist had disappeared completely and at three in the afternoon, the sky was a cloudless bright blue. My heart was lighter, I was walking ahead this time and the painkillers I'd taken for my back were working.
It was on our way down soon after when I thought I saw something- a faint outline in the distance, just beneath the clouds. A craggy horizontal line far, far away. Are those mountains?
I stopped to take a closer look.
"Is that it?" I asked aloud.
Zarah looked to where I was pointing. "You mean Africa?"
"Yes. Could that be Morocco?"
"I don't know. It could be."
I stared into the distance. "How amazing is that?"
"Very," Zarah said, taking out her phone.
The path would take us downhill from then on. In a few hours we would arrive in Bérchules, our last stop, and that would be the end of our hike. Tomorrow we would have to go back to Granada and after that, I would be on my way to Madrid. I looked at the mountains and felt a familiar longing. High places of any kind.
Zarah was already far ahead, a dark speck on the path leading down to Bérchules.
I went after her and thought of Morocco. How difficult are the Atlas Mountains, I wondered.
Trip notes:
This was a self-guided walk in February 2016 organised by Macs Adventure, who provided us with route notes, daily maps, an information pack and the all-important baggage transfer service. We paid our own way for this trip and did not receive any payment for this post, which is an account of Days Three to Five of our walk. Macs provided excellent support, right from my first enquiry email in November 2015. I would recommend them in a heartbeat.
Our route, with distances walked per day:
Day One: Circular walk from Capileira (1,436m) to Bubión (1,350m): 8.1km
Day Two: Capileira to Pórtugos (1,300m): 17.07km
Day Three: Pórtugos to Trevélez (1,486m): 15.73km
Day Four: Rest day spent exploring Trevélez: About 2.5km.
Day Five: Trevélez to Bérchules (1,350m): 16.42km
Total distance walked: 59.82km.
Our route followed some of Spain's most impressive long-distance trails: the GR7, a trail measuring 1,700km from Algeciras in the south to the entire length of eastern Spain up to Andorra, the 300km GR240 Sulayr which circuits the Parc Nacional de Sierra Nevada, and the incredible 10,000km-long trans-European E4 route which traverses 10 countries from Portugal to Greece. The Spanish sections of these three long-distance paths pass through the Alpujarras. The highest point on our route was at El Portichuelo (2,020m) between Trevélez and Bérchules.
Getting there and back:
Our starting point was Capileira. To get there, take a bus from Granada. Buses depart at 10am, 12pm and 4.30pm. We took the 10am ride (€6.13) as it was winter and we needed enough daylight hours to walk.
We ended our walk at Bérchules. From Bérchules, you can take a bus to Granada (€9.50). There are only two buses daily: 5.50am and 5.30pm. Don't miss the early morning bus because it won't wait. ALSA buses are comfortable, have wi-fi and are punctual.
© 2016, Anis. All rights reserved.