At home in Bo-Kaap
On March 2, 1653, after a long journey at sea, a slave called Abraham arrived as a stowaway on the shores of what is now Cape Town, South Africa. Abraham had escaped from his master in Batavia (present-day Jakarta under Dutch rule) and although he didn't know it then, he was the first named slave to arrive at the Cape.
Cape Town at the time was a refreshment outpost for the VOC, or the Dutch East India Company. VOC ships travelling between Europe and Asia would stock up on vegetables, fruit and meat in Cape Town, giving their sailors time to rest before the next long voyage.
Abraham was what the Dutch called a Cape Malay- the peoples they brought over from the Malay Peninsula and Indonesian Archipelago as slaves, dissidents and political exiles who opposed Dutch rule.
My own arrival in South Africa was memorable, but not as dramatic as Abraham's.
I arrived in Cape Town on a day so blustery that I saw suitcases large enough for me to curl up inside toppling over in the wind. I would have been blown off as well if I hadn't caught hold of a handrail.
Like me, the owner of those suitcases had been standing at the traffic lights outside the Civic Centre bus station, waiting to cross the road. A few steps away, a girl in a light green dress squealed as she tried to stop her skirt from flying up.
"We have a lot of those here, those railings," said Bilqees, my contact in Cape Town. She had offered to meet me at the bus station. "They're very useful for holding on to- telephone poles, pillars, handrails. It can get really windy here," she said with a chuckle.
Bilqees was my link with the local Muslim Cape Malay community, many of whom were descendants of people like Abraham. I was going to stay with a Cape Malay family, and since I was born in Malaysia, maybe I would find out more about our shared heritage.
Most of the Cape Malays stay in Bo-Kaap, a neighbourhood that lies at the foot of Signal Hill in the northwestern part of the city. Out of the countless urban walks I've done in all the cities I've been to, the approach from the centre of Cape Town to Bo-Kaap is probably my favourite.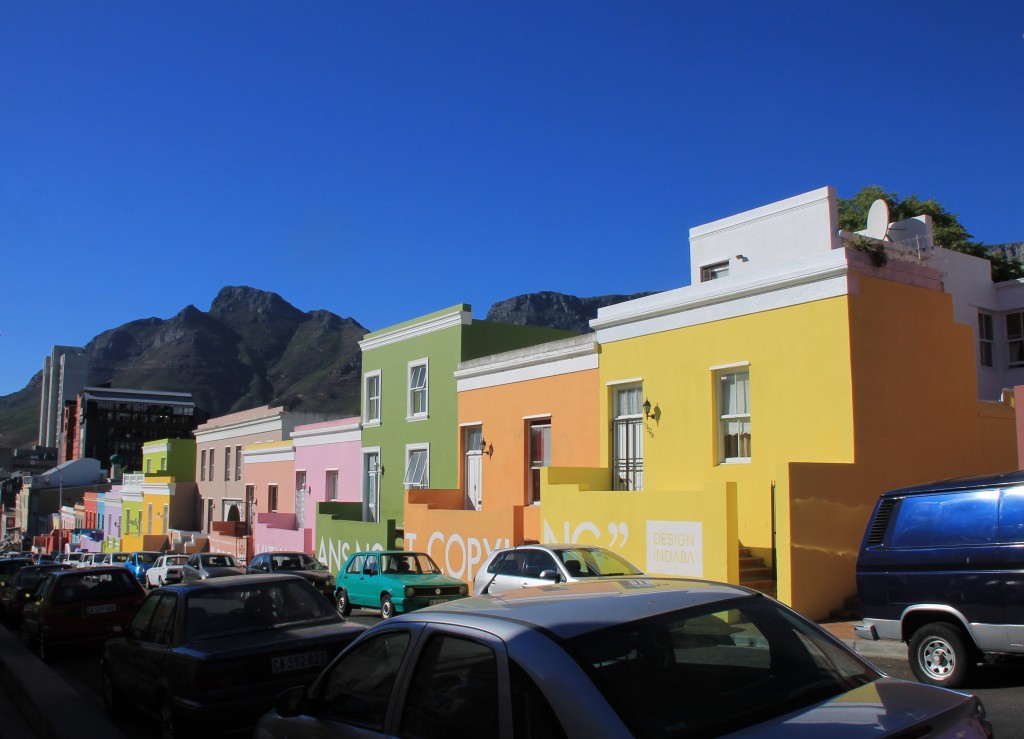 You'll notice the colours first.  When you come upon rows and rows of brightly painted houses, you know you've reached Bo-Kaap. It's impossible not to smile when you see them. These houses aren't for show; these are actual homes with families in them, painted in bright colours simply because the owners thought it was a good idea.
Travelling 6,000 miles and discovering a community with the same roots as yours is fascinating but it becomes more so when you see it in everyday life. It isn't merely in the closeness in skin tone or features but it's in little things like the names of places (Tana Baru– 'new ground') and objects ('piring'- saucer; 'achar' – chutney; 'pisang'- banana;) which have the same meanings in Afrikaans as they do back in Malaysia.
My hosts treated me like I was one of theirs. They had two daughters who were already married and no longer lived with them so the wife, a large woman who fed me every morning as though I was training with the Springboks (and fed me every evening as though I had just won a rugby match), took it upon herself to spoil me.
The food was lovely. I have fond memories of the salads, curries, meat stews and roti that she prepared. When you're away from home, there are few things more comforting than a curry and a nice hot roti, something I'm sure the wife knew. Every day before I set out to explore Cape Town, she would make sandwiches, give me a bottle of water and toss an apple or two into my bag.
Her husband, a kind, sprightly man in his 60s who told me to call him Papa, took me for brisk walks into town and up the hill behind their flat. He had a youthful nature about him and walked faster than a man half his age.
My hosts received visitors almost every day while I was there. First it was their grandson, an intelligent eleven-year-old boy who chatted with me about rugby. The next day it was one of their daughters. Two days before I left, Mama's friend came to visit. She couldn't speak English and held my hands and smiled a lot.
I sat on the balcony on my last day in Cape Town. That evening, like many other evenings, the whole neighbourhood had come out to enjoy the last few minutes before sundown. A group of boys was playing football at the playground not too far away. In the next block, two women in headscarves chatted from one balcony to another and just a few feet away from the flats, a father and his little son threw a ball back and forth.
And then, down below near the colourful houses, the call to prayer. The boys looked up, gathered their things and said goodbye. The women disappeared from their balconies and the father tossed the ball to his son one last time.
To my right was Table Mountain. Majestic and beautiful, it towered over us, just like how it must have looked to the first slaves and exiles who arrived hundreds of years ago from an archipelago far away in the east.
© 2015, Anis. All rights reserved.