Somewhere on the Cleveland Way
The sun was right above me; it was four in the afternoon. I wasn't particularly late- sunset is around 7.30 this time of year in England- but when I set out that morning, I imagined that I would already be at my bed and breakfast by four-thirty. And yet, instead of enjoying a nice cup of tea with scones and cream, there I was, sitting on the grass in the middle of nowhere, nursing my sore feet.
In the middle of nowhere, I thought. What a good place to be.
My search for solitude had brought me to the North York Moors. I was on the Cleveland Way, a beautiful 110-mile walk that begins in the moors of north England and ends on the Yorkshire coast. The need to be by myself had given me exactly what I wanted: I was alone. I hadn't spoken to another soul for hours.
I fished out my water bottle, took a sip and settled down by the side of the trail. Behind me was a low stone wall, while the Cleveland Way stretched into the distance as far as my eyes could see. All around me was heather the colour of dark purple and a slight chill in the air.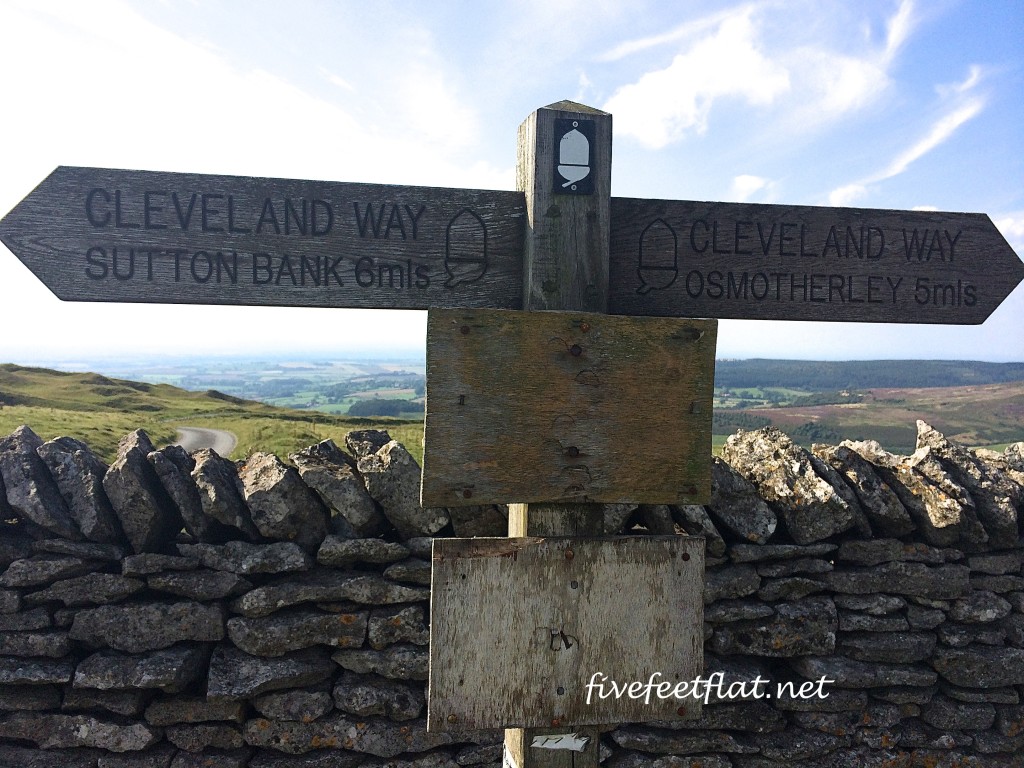 Not far from where I rested stood a wooden signpost which read: "Osmotherley, five miles." That was where I planned to spend the night. I had already walked thirteen miles the day before and six miles from Sutton Bank that morning. Surely I could walk another five.
At that moment, a cyclist in a yellow jersey suddenly appeared, tumbling down the slope I had just come from, hurtling towards me. Another human being! My heart jumped. And yet I had come here to get away from people.
"Hey there," I called out, trying not to look too tired. "Hey," he replied, giving me a quick grin as he bounced over the gravel path. In a flash, he was gone.
I stared after the cyclist. Hey. There. First two words in three hours.
I envied him. I marvelled at how quickly he went up the trail. My eyes followed him as he sped off into the distance. By the time his yellow top disappeared over the horizon, I realised that I'd lost two minutes just watching him go.
An idea took shape in my mind, as I sat there in the middle of all that heather. Maybe I should lie down or something. "Just a few minutes. It's still early". That was my Right side talking.
Left was not in a good mood. "Get up, stop behaving like an idiot. You're going to doze off. No-one's going to notice you, you're going to wake up when it's dark and you're going to freeze to death."
That argument with my two sides, those opposing thoughts in my head, had never happened before and it didn't end there. I was torn.
"I'll be fine. I'll put on my fleece, wrap myself in the emergency blanket and lie down for a bit. Someone's bound to see me and wake me up," said Right.
"You're going to die. Don't be stupid. Get up."
"No-one's going to miss me anyway."
"You're an idiot," Left said.
And that was the end of that. I sighed, got up, put on my backpack and began walking again. There was no point arguing with reason.
I reached Osmotherley two hours later after walking through more heather, a large reservoir and fields of farmland. By then, my feet, which are completely flat, felt like they were about to drop off. What are the chances that someone who loves walking will have the worst kind of feet for it?
By the time I found a place to sleep, it was way past sundown and time for dinner. The man with the keys to my room said I needed to be out by ten the next morning. "How was today, then?" he asked.
"Brilliant," I said. I didn't have those scones or that nice cup of tea, but my feet hurt enough to tell me I was alive.
© 2015 – 2016, Anis. All rights reserved.