France, early morning
In the French village of Bossey, not far from the Swiss border, the days pass by pretty slowly. So slowly that on a walk one morning, a slug I had chanced upon on a footpath one hour earlier had barely moved when I passed him again. But then he was, of course, a slug.
I am in France, on assignment. Sort of.
Not exactly for work, but there is some form of work involved. It's a sort of house sit because I'm helping to keep things in order before someone's property is put up for sale, but then the home owner is here and needs me around so maybe it's not exactly a house sit. To make things a little more interesting, I'm not the only one on this gig. There are others here as well. The home owner needs more than one person to look after her.
Whatever one calls it, there's been cleaning, washing, rearranging, tidying up of living spaces and (some) discarding of unwanted things. In the past few days, bills have been paid, old friends met and many meals had. I've lost count of the number of photos we've taken- the owner is in her late eighties, has many memories of the years spent in this house and wants to keep them close to her.
"I don't want to sell this house," she said quietly the other day. "It breaks my heart to let it go, but I am old and cannot look after it any longer."
I told her carefully (because I am decades younger and clearly know nothing) that no matter what happens, the one thing that remains with us is what we carry in our hearts. "Maybe the house and the furniture"- I rapped the armrest of the chair I was sitting in- "will no longer exist, maybe this house will be gone, but your memories of this place will always be with you." That was the only thing I could say.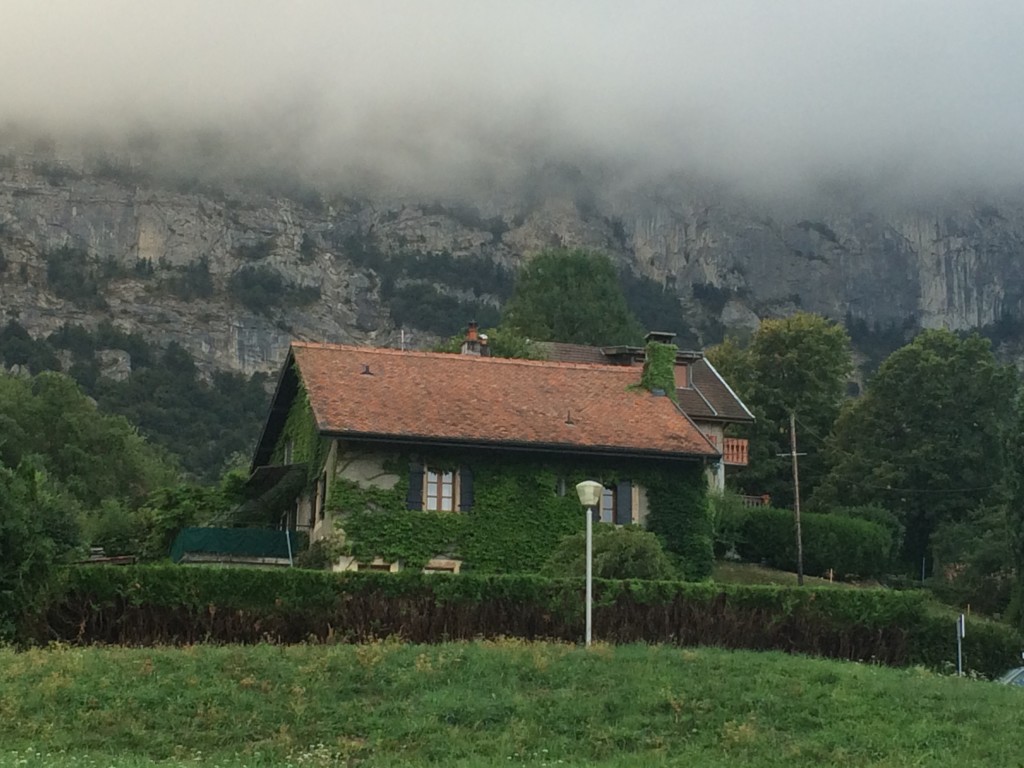 The days have been slow. The old lady enjoys her food, so mealtimes are always a big thing. Breakfast is usually at nine or nine-thirty, depending on when she wakes up and when we can get our act together. It's usually some combination of freshly toasted bread, croissants, cheese, fried eggs, cereal and merguez, those spicy North African lamb sausages.
Lunches are late, sometimes as late as at three-thirty in the afternoon, especially if we go out during the day.
Dinners were as late as ten o' clock last week but we've managed to bring them forward to eight-thirty. Most of the time it's a question of planning and deciding what to eat, earlier.
Like many old people, she has a sweet tooth. Cake, mousse au chocolat, yoghurt, sweet plums, you name it. "There is always time for dessert," she often tells me.
I look forward to my mornings here in Bossey, where I nip out for an early walk, pre-petit déjeuner. I'm not a morning person in Malaysia. At home, I sleep in but when I'm away, I find no difficulty in waking up before the sun rises over the horizon. Travelling and being away from home turns me into a different person.
(Which is the real us, the one at home or the one away from home?)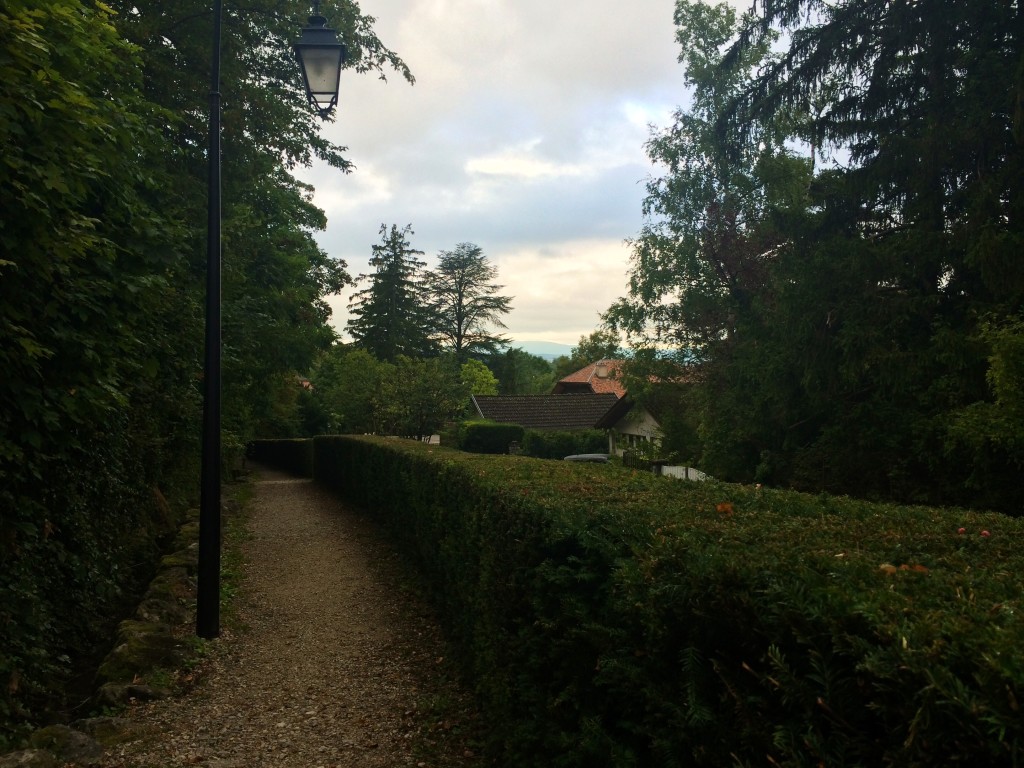 In Bossey, I sneak out as quietly as I can so I don't wake up the home owner. I don't have a set of keys to the house so I cannot leave by the main door. Instead, I exit via the patio doors, take the crumbling steps leading to the garden (Watch it, don't trip, I tell myself), go past the old apple trees and leave by the front gate. It is no longer summer and the air is chilly in the mornings.
I meet many people on my walks. On weekdays, I'll bump into parents dropping their children to the local school, usually by car, but once in a while I'll see one or two dads struggling up the hill on foot with their child in tow. Other days, there are joggers, mailmen on bikes and people with little bags of dog poo, walking their dogs.
I saw a fox yesterday. My walk takes me up a hill which, if I go high enough, will lead me to a hiking trail called La Grande Gorge to the nearby peak of Mont Salève. Instead of climbing the mountain I go through a neighbouring village called Collonges-sous-Salève. When I first saw him, the fox was scurrying about near a thicket in Collonges close to the path.
He was several hundred yards away but he saw me. His fur was a beautiful dark rusty orange and he had a bushy tail with a white tip.
I took a step forward. "Hey, fox," I said.
He couldn't have heard but he stopped and stared, and I stared back. My fingers were itching to take a photograph but I didn't want to spoil the moment so I just stood there while we looked at each other. And then, in a flash of orange, the fox turned and disappeared into the trees.
When I arrived home one hour and eight and a half miles later, my heart thumping from the climb, someone had already boiled water in the kettle and taken out the croissants for breakfast.
© 2015 – 2016, Anis. All rights reserved.