Walking across New Zealand- the Coast to Coast Walkway
How often can you say you've walked across a country, from one coast to the other, in one day? Not too often I suspect, but in New Zealand, you can.
You can do this in Auckland via the Coast to Coast Walkway, a 16-km route that takes you from the Waitemata Harbour on the Pacific Ocean to the Manukau Harbour on the Tasman Sea.
Walking the Coast to Coast was a farewell present for myself. I had spent almost two months in New Zealand, most of it in Auckland, and I wanted to do something special before I left.
I prefer walks that are closer to nature, but an urban walk is a wonderful way to learn more about a city, especially one that you love. A good urban walk takes you through the history and geography of the place and allows you to explore the architecture, so you emerge at the end with a better appreciation of a city, even one you may have lived in all your life.
Here's a .pdf file of a map of the Coast to Coast Walkway from the Auckland Council website: map.
The first twenty minutes or so into the walk involves going through the city centre from Princes Wharf, Customs Street and Princes Street. I actually made a quick detour to the shopping district at Queen Street at this point, then turned back to join the walkway. The route at this stage is clearly marked at road crossings and traffic lights.
Auckland is a city of parks and that day I discovered Albert Park.  It was a clear day and the Sky Tower was visible from where I sat: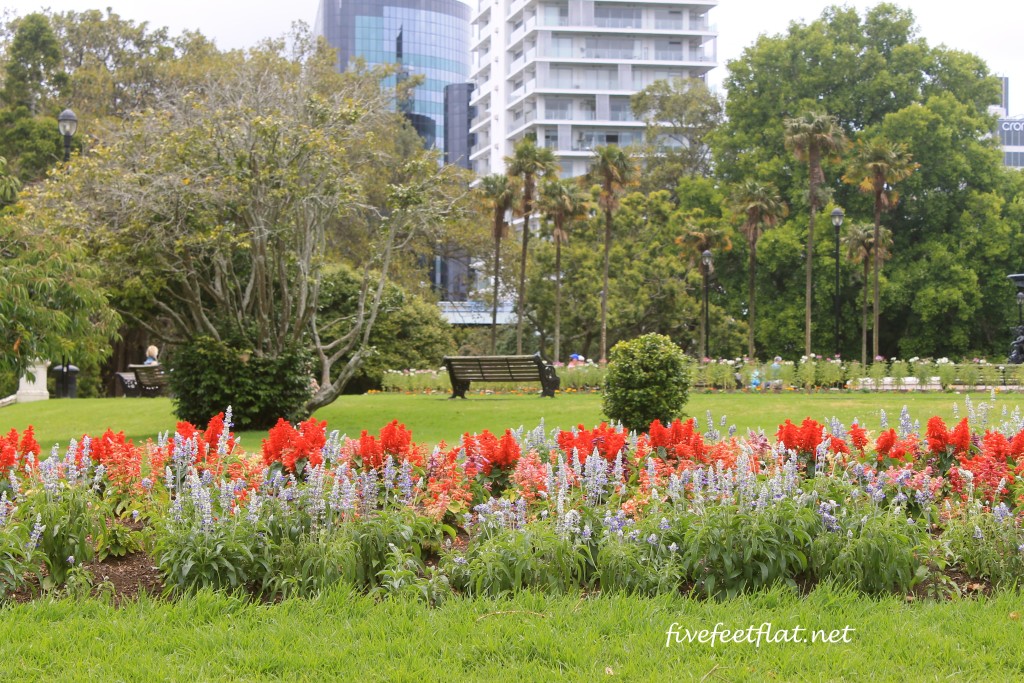 Princes Street is also where some of the Auckland University buildings are located, such as this lovely old house:
Leave Princes Street and the route takes you along Grafton Road and before long, you'll reach Auckland Domain, the city's oldest park. It's a beautiful park but I'll admit that I pretty much breezed through it, wanting to complete the walk before it got too late.
Exit the Auckland Domain via Park Road until you reach Maungawhau, or Mount Eden, Auckland's highest volcano. It's a bit of a walk from Park Road but totally worth it.
One little-known fact about Auckland is that the city has the largest concentration of volcanoes in the world. The city is built on the Auckland Volcanic Field on which lie at least 50 volcanoes within a land area of 360 square km. The truly interesting (and rather scary bit) is that although the volcanoes are dormant, the volcanic field is active.  The Coast to Coast Walkway passes five volcanic sites.
Mount Eden, which last erupted 15,000 years ago, has a crater 50 metres deep. The crater can only be truly appreciated from above, way up above, as seen in this incredible photo from GNS Science: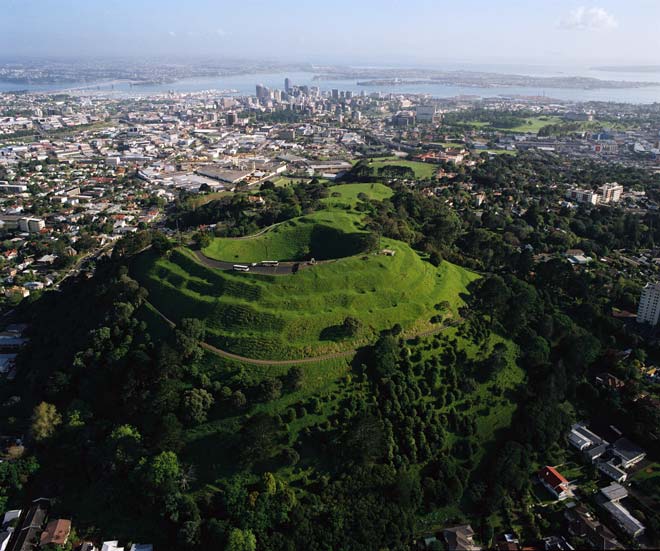 After the route heads farther south through Epsom, it arrives at what I consider one of Auckland's most gorgeous spots – Cornwall Park and the One Tree Hill Domain. These parks lie next to each other and together, they form the city's largest parkland. I stayed at my brother's house on Pah Road during my time in Auckland and from there, it took only five minutes to get to Cornwall Park. I took many walks around the neighbourhood so in a nerdy sort of way, I was overjoyed to see some familiar streets on this section of the Coast to Coast.
The One Tree Hill Domain is where another of Auckland's 50 volcanoes is located. Maungakiekie (One Tree Hill, the same one in that song by U2) is the largest and most complex volcano in the southern hemisphere. Maungakiekie has three craters –all covered in lush green in the summer- and for centuries was home for 5,000 Maori villagers who built terraces, food storage pits and defensive structures on the sides of the volcano.
I'd walked around that section of Epsom and gone up One Tree Hill numerous times, but now that I was following the Coast to Coast Walkway, I began to see the park and neighbourhood differently.
I began to notice and appreciate new things, like other entrances to the park, those I hardly used because they were on the opposite side. Like corners of Manukau Road I'd walked past but never really paid attention to.
There was no big celebration when I reached the end of the walk at Onehunga Bay later that evening. There wasn't even anyone near enough to take a photo of me by the board that marked the end of the walk. There were a few kayaks in the bay and a man and his dog some distance away, but that was it.
The funny thing was that after I reached the end, I didn't stop. I went on walking for another 4kms around Onehunga, bringing my total that day to 20km. Tired? My feet certainly were. Hey, they had just walked across New Zealand, sort of.
On the bus back to Pah Road, the first thought that came to mind was how much more of Auckland I had seen after walking the Coast to Coast. It dawned on me how much further we explore, both the path and within ourselves, every time we take a new route, and yet this is something we already know deep inside.
We already know that to explore, we need to move away from the usual and see things with fresh eyes. After all, wasn't that how we saw the world as children? Weren't we curious about everything? Didn't we run around and explore when we were kids? Yet many of us still take the same old routes, the same old buses and trains, walk on the same old streets in our cities. We are too comfortable with the familiar.
Taking a different route to Mount Eden and Cornwall Park made me notice new things about Auckland. This came naturally that day: the traveller-writer-photographer in me cannot help but notice things that are new and different. If it's our habit to keep a record of our wanderings, whether in the form of words, sketches or images, we programme ourselves to pay attention.
Which led me to another thought: noticing new things is a good thing. It opens your eyes and mind to the space you're walking in, whether it's the countryside or city. It happens when you step away from the familiar and take a different approach. When you're braver and throw away the map. When you explore.
So what else is there for us to do, but to be brave, take a different route, and explore.
© 2016, Anis. All rights reserved.